Motion-controlled lighting for pedestrian and bicycle paths and floodlights
Now we make it possible to regulate and optimize light flux as needed through our intelligent sensors and wireless control. You get a safe and secure outdoor environment while saving energy by lightening the right strength at the right time. The luminaires communicate via a wireless radio network, which means that you avoid expensive control cables, it is enough to connect the lighting to the mains.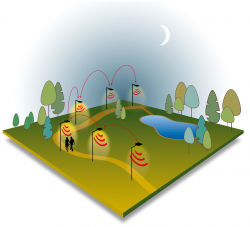 Smart control
Schedule 1
The lighting on the walkway lights up at dusk using the built-in light sensor. The base light is set to
20-30% to create security. When moving, selected luminaires light up 100% during, for example, 10 minutes. The time the luminaires should illuminate is adjustable also how many to light up, eg 3 pcs in front and 3 pcs behind.
Schedule 2 (23: 00-04: 00)
If desired, the system can be activated with schedule 2 during night time. It may be related but at the same time it lights up when someone comes.
The right light at the right time for a safe and secure society without wasting energy unnecessarily.
Save up to 80% energy
By presenting the luminaires with ActiveLights IQ you can achieve up to 80% energy saving without sacrificing safety and security. You get a sustainable lighting that saves on the earth's resources while contributing to a reduced light pollution. An IQ system is counted home for 4-8 years compared to a system without control.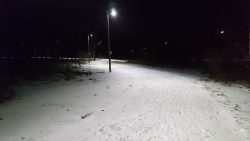 Stockholm Lövsta 2,3 km with ActiveLights IQ 5-45.