ActiveLights IQ = Future-proof
Future-proof your lighting by choosing ActiveLights' IQ, the market's most competent LED luminaire. You can, whenever you want, choose to connect the IQ luminaries to ActiveLights IoT and use smart and time-saving services such as operation monitoring, alarm and passage statistics.
Step 1 – Local installation
Start with an installation on a walking path, parking or around a property. The luminaries then produce a local system where all IQ nodes communicate with each other in a radio network. You can easily optimate light output after the demand through our intelligent sensors. With demand control, you get a safe outdoor environment at the same time as you are saving up to 80% energy since the luminaries shines at the right strenght at the right time.
Step 2 – Connection
All IQ luminaries/nodes can easily through a Gateway be connected to ActiveLights Connect IoT platform. A Gateway is mounted in an existing IQ luminaire or in an IQ box and it's the link between the local radio system and ActiveLights Connect IoT online. Our IQ nodes are available in many different versions for different need such as IQ-Dali, IQ-Zhaga, IQ-Nema, IQ Box speed and IQ luminaire.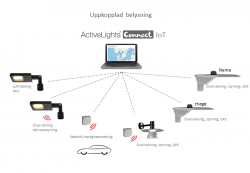 ActiveLights IQ communicates via a wireless radio network, which means that you avoid expensive control cables. The luminaires are available in the effects 5-90W (up to 9800 lumens). The most efficient lenses on the market optimize the luminous flux. IQ is easily mounted on pole, facade or under roof using our practical brackets.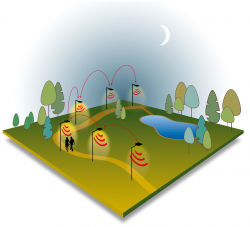 Unique features

Two logical schemes for smart lighting control

Presence detection and control

Wireless radio communication between the IQ units

operating

Statistics

Passage Statistics (Number)

Temperature statistics min / max (C °)

Speed measurement IQ Box (km / h)

Individual programmable light level 0 – 100%

Energy measurement (Wh, V, A)

Light sensor (lux)

Real-time clock / astronomical clock

Temperature sensor (C °)

Radar sensor, 60 ° x 80 °, detects up to 20m

GPS positioning

Upgradeable software via radio




32-bit encrypted radio traffic

3G online monitoring and programming (option)
Plug-in play – pre-configured
The IQ luminaires will be pre-configured with ignition times, schedules and settings as you wish. This means that the installer installs the luminaires as usual and the system is in operation. If afterwards you want to change an ignition time or a schedule, it is easy to go through the Connect software.
Easy to change
The IQ system has a variety of smart features that make it easy to update and change the lighting system settings. Via the function common settings it is enough to upload changes to a luminaire, which then sends the changes to the other luminaires in the radio network.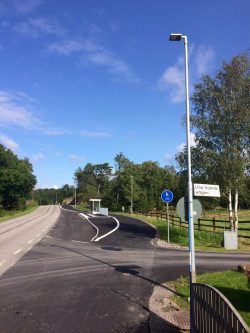 Kungsbacka IQ 5-40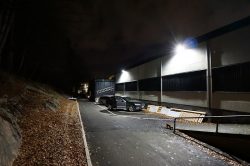 Corem Property, IQ 5-45