.
Future is here

ActiveLights Hybrid – the best of two worlds,  solar and electricity with motion detection systems. The pole is powered by solar energy and if it's needed by electricity grid.
Select luminarie
The Hybrid pole is "luminaire independent". Choose luminaire according to your design and lighting requirements. The power of the luminaire must not exceed 35W of power. With today's efficient LED-diodes, you will have a good lightdistribution with only 10-20W of power on a 4m high pole.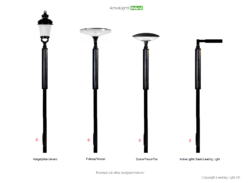 Motion detection control
The hybrid system has our smart wireless IQ system built inside. With the invisible motion detection sensor, we make it possible to control the amount of light according to need. The IQ system communicates wirelessly with other Hybrid and IQ products, which means that you can build large smart lighting controlsystems that communicate with each other without any extra cables. Read more about IQ: ActiveLights IQ

IoT Connection
With a ActiveLighs Gateway you will have axcess to the IoT-system. ActiveLights Connect IoT contains many smart and timesaving services such as operational monitoring, alarms and passage statistics. Read more about Connect IoT: ActiveLights Connect IoT
How does it works?
The hybrid product consists of a 4.5m cylindrical galvanized and painted post that is equipped with two service hatches. At the top of the pole there is a designed solarpanel that charges both by daylight and sunlight. The upper service hatch contains the IQ control system and the Hybrid energy system. The battery is located inside the pole for easy service management. The lower service hatch contains electricity grid connection and fuse.
When ordering a pole you will have to choose diameter for the top of the post, we offer 60, 76, 89 mm.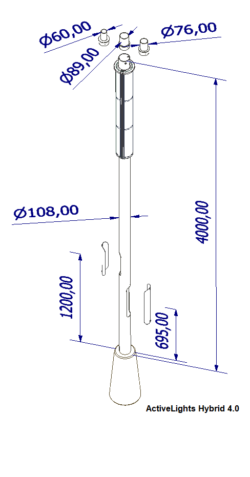 Installation Haga Park in Stockholm